This ongoing blog entry is intended to compile tips & images I've shared with my painting students. Sometimes these are in the form of an email sent out to the class, or a Facebook post.
Check back often for updates! The latest will be at the top.
Facebook Post:
October 9, 2014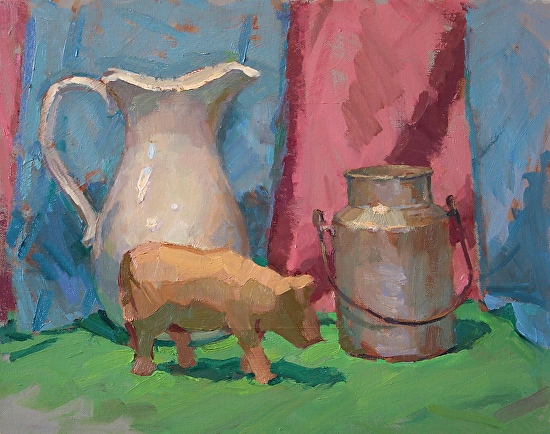 When you teach painting classes, you sometimes meet resistance in new student's acceptance of your class exercise.
Yesterday I posted a pretty involved figurative painting with an intentional design that involved several hours of planning & pre-painting/sketching to come up with the finished product (which probably took about 60 hrs, painting in my studio & on location).
Today's post shows a more spontaneous painting experience, a 16x20 still-life I set up for my students this past Monday at Visual Arts Center of Richmond. I painted off & on while helping my students, and continued on my own after class had ended. About 3 hrs of painting total. Done. End of story. Nothing like the thoughtfulness that had to go into the multi-figure composition in yesterday's post.
I bring this up because every semester I have a couple of new students who complain about painting a still-life....they've seen my more complex work (usually figurative) around town or on my website, and they think that signing up for my classes will enable them to "paint like that". Never mind that their drawing skills are still too weak to handle even relatively simple still-life shapes, much less figurative work, but that's another story. Yikes.
I understand their impatience, however, and sympathize....but also emphasize how I personally continue to benefit from the same painting-from-life exercises I'm giving them. There's no pre-planning other than maybe a quick five-minute thumbnail sketch, and BAM! you are off-and-painting, directly from life and with the clock ticking.
It can't be over estimated how liberating it can be to not have an emotional investment in the subjects you are practice-painting. These still-life objects (that's a paper mache' bull, btw) don't have the same emotional pull for me as my figurative work, so I believe I'm freed up, in a way, to think more objectively about translating quickly (the exercises are usually 3 hrs max) what I see into color/value masses of oil paint on canvas. I'm sensitizing my eyes to "see" more efficiently, and every time I paint more complicated subjects, with or without time limits, I reap the benefits.
---
Facebook Post:
October 8, 2014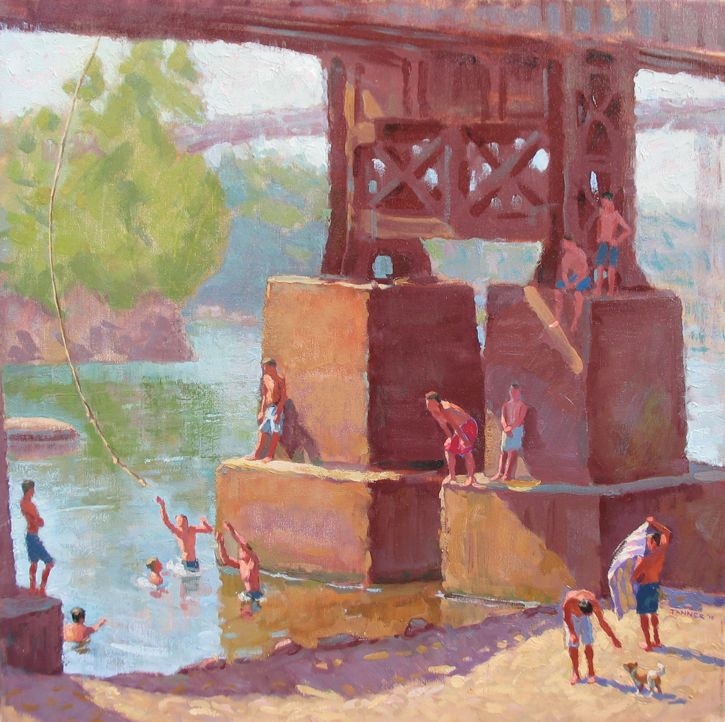 Bathers on the James
Oil, 24x24, 2010


Kinda long-winded description of my process, but here ya go: This was probably my first "designed" multi-figure composition, full of trial & error, but ultimately a really satisfying process. I did several small plein-air paintings of the landscape alone, no figures, during morning light by this train trestle on the James River (Richmond Va) & photographed swimming figures while there. I ended up with a variety of figure gestures in photo refs back in the studio, where I began the larger painting you see here, minus the figures. Let it dry, then laid clear plastic sheets over the painting & did quick oil sketches of the figure gestures based on my abundance of photo refs, moving the painted plastic overlays to experiment with placement.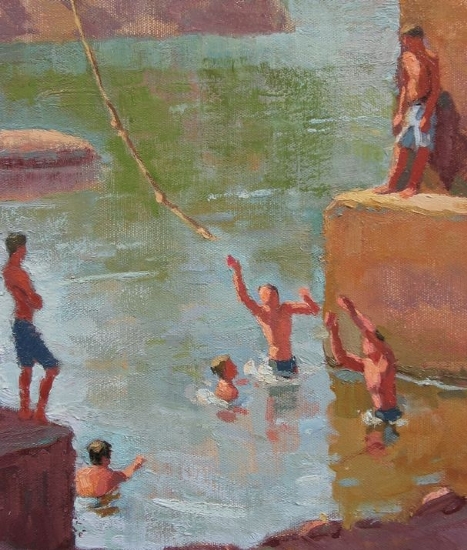 Detail, Bathers on the James

I suppose I should buy Photoshop to do some cutting & pasting, but I really think having to sketch out the figures as I experimented with their placement totally helped me understand the significance of the individual gestures. I've employed this process on nearly 10 multifigure pieces in the last 3-4 years, and always satisfied with the results.
---