David Tanner is a representational oil painter in Richmond, Virginia. Since receiving a Bachelor of Fine Arts degree from Virginia Commonwealth University in 1991, his study of traditional painting technique includes workshops with modern masters Nelson Shanks in Philadelphia and Robert Liberace in Washington DC.
After more than a decade of oil portraiture, David has been focusing on figurative and plein-air painting since 2006. Frequent traveling has provided rich opportunities for capturing the light and color of locations in Russia, Italy, Spain, Morocco, and Great Britain. While visiting painting collections in these countries, David has studied the work of Sargent, Sorolla, Zorn, Repin, and other late 19th and early 20th century masters.
David teaches oil painting at the Visual Arts Center of Richmond, where he was elected Master Teacher in 2006. He had the honor of being invited to demonstrate plein-air portrait technique at the 1st Annual Plein-Air Expo in Las Vegas, April 2012, hosted by PleinAir Magazine, possibly the largest gathering of plein-air painters in history, including many of today's most respected representational painters.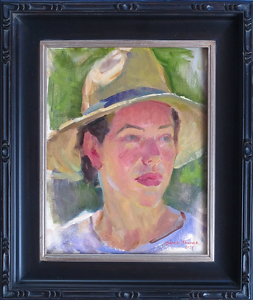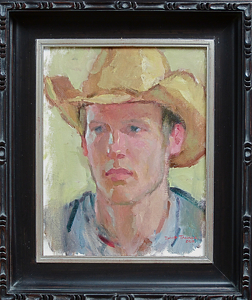 Above: Demonstration paintings from Plein-Air Expo, April 2012
National awards include three honored paintings in the Portrait Society of America's 2011 Member's Only Competition, as well as honors in other national competitions hosted by PleinAir Magazine, The Artist's Magazine, and the Raymar Fine Art Competition. His Self-Portrait won 1st prize in American Artist magazine's annual competition, and was featured on the cover of this respected publication in September 2012. His Painting Phillip Scaggs of Richmond Ballet was the featured painting in the "Classic Moment" back-page feature of Fine Art Connoisseur in April 2014.
David is an active member of Oil Painters of America, The Portrait Society of America, and the American Impressionist Society. In Richmond, his work can be seen at Crossroads Art Center (2016 Staples Mill Road, Monday-Saturday 10-6, Sunday noon-4) and his Museum District studio (by appointment only).
To read the following articles written about David and his art, please click on each article:
Classic Moment, Peter Trippi, Fine Art Connoisseur, April 2014
Face of a Winner: Self-Portrait Competition Results, Michael Gormley American Artist September 2012
Life's Moments Through David's Eyes, Holly Prestidge Richmond's Times-Dispatch May 2012
People and Places, American Art Collector May 2012
Adult oil painting classes with David Tanner are available through the Visual Arts Center of Richmond. Visit visarts.org for more information.
Below: David at Crossroads Art Center, May 2012, during his annual solo exhibition.
Bottom: Self-Portrait; featured on cover of American Artist magazine, Septpember 2012